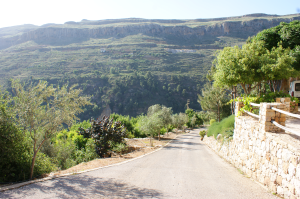 Warhaniyeh
Land Area: 0.1 Km2.
Population: 3000 person.
Permanent Residents: 600 person.
Percent of Migration: 80%.
Geographic Location
Warhaniyeh is located in the Mount Lebanon, 15 kilometers away from Caza Center in Baakleen. It is bordered by; Al Barouk on the south, Al Siffi on the north, Al Furaydis on the west and Briih on the west. Its altitude is 1200 m above sea level. The village has a moderate climate. Warhaniyeh's most common neighborhoods are: Lower Hara, Upper Hara, El Shakara, El Mouzala, and El Shadi.
General Information
There is an active municipality of 8 council members and 1 Mukhtar. The municipality is divided into 7 committees: Work, Social and Cultural, Environment and Health, Electricity and Water supply, Public property, Auctioning, and real estate committees. The village has two social groups the "Warhaniyeh Dar Association "and the "Women's Charity Association". In Warhaniyeh the infrastructure is of moderate condition. Electricity and telecommunication network systems are of good quality. The sewage disposal system is also available in this village. Drinking water is provided from Barouk springs but is not distributed to the whole village. There are no artesian wells in the houses. Moreover, groundwater is not available in Warhaniyeh. The village has only one elementary school. No vocational or university education exist in the village. There are two factories in Warhaniyeh. One of them manufactures frozen meats and the other "Burghul". The products of these industries are found in the Lebanese market. Animal rearing is no longer a source of living in Warhaniyeh. Some villagers tend to raise chickens and goats for their own family consumption. The most widespread agriculture is that of fruit trees such as apple, peach, and pear. Other cultivation is for the household use only. Oak tree is one of the prevailing wild trees in Warhaniyeh. It is a tree of the genus Quercus Robur of the family Fagaceae. Oak is the wood for lumber, has some medicinal use and is used for dyes.
Health
Private clinics, dispensaries, pharmacies and hospital are not available in the village. The inhabitants go to the nearby villages for such services. The most occurring health problems in Warhaniyeh are: hypertension, diabetes, and goiter.